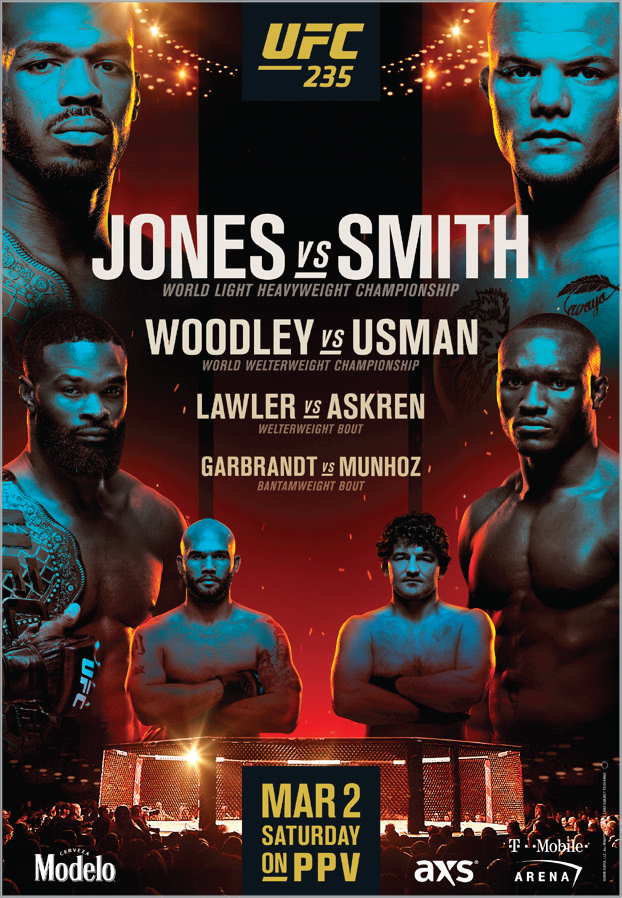 UFC 235 is one of the most stacked cards in UFC history! With so many great fights, fighters, camps, it's only right that the staff gives their Locked Inn picks.
Jon Jones vs. Anthony Smith Staff 2-1 Jones
Max Van Auken- Jon Jones is arguably the greatest fighter of all time. Smith is a threat, but Bones is the best at distance and range, on top of brilliant fighting IQ, and god gifted ability. I have Jon Jones second round submission.
David Van Auken- Jon Jones
Jon "The Professor" Radford- Anthony Smith
T'yron Woodley vs. Kamaru Usman Staff 3-0 Tyron Woodley
Max Van Auken- Usman presents a lot of problems for the champ, Tyron Woodley. But with that being said, I believe Woodley presents even more threats to Usman. One of the most impressive parts of Woodley's game is not the power, not the wrestling, it's his fighting IQ and his ability to execute a great game plan and to fight HIS fight. I have Woodley winning by third round TKO.
David Van Auken- Tyron Woodley
Jon "The Professor" Radford- Tyron Woodley
Ben Askren vs. Robbie Lawler Staff 3-0 Ben Askren
Max Van Auken- I believe Robbie has been overlooked going into this fight and has a legitimate chance at landing a clean shot on Askren that puts him away. But I believe Askren will stay away from danger and will out wrestle Robbie to earn himself a dominant unanimous decision victory.
David Van Auken- Ben Askren
Jon "The Professor" Radford- Ben Askren
Tecia Torres vs. Weili Zhang Staff 2-1 Weili Zhang
Max Van Auken- Weili Zhang
David Van Auken- Weili Zhang
Jon "The Professor" Radford- Tecia Torres
Cody Garbrandt vs. Pedro Munhoz Staff 3-0 Cody Garbrandt
Max Van Auken- Cody Garbrandt
David Van Auken- Cody Garbrandt
Jon "The Professor" Radford- Cody Garbrandt
Zabit Magomedsharipov vs. Jeremy Stephens Staff 3-0 Zabit Magomedsharipov
Max Van Auken- Zabit Magomedsharipov
David Van Auken- Zabit Magomedsharipov
Jon "The Professor" Radford- Zabit Magomedsharipov